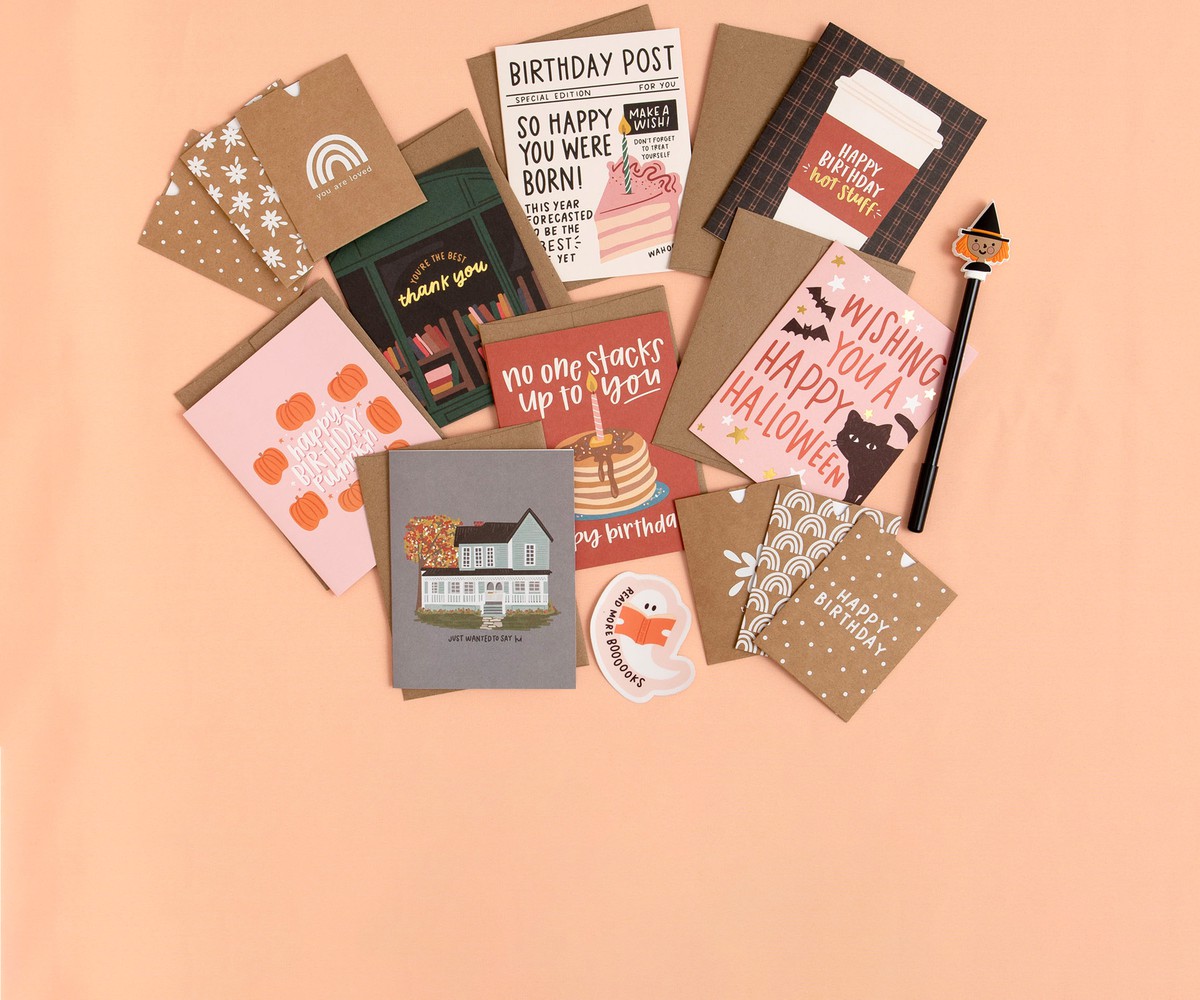 Pippi Post
This monthly pack of awesomeness is filled with seasonal illustrated cards, postcards, patterned envelopes, festive embellishments and handy paper goods! Not only is this stationery undeniably cute as heck, but will always have you stocked with all the cards you'll ever need, including your favorites that will forever live in your digital files to print at home!
In even MORE fun, Pippi Post offers a special few items to be added on to your order every month. This could be a perfectly inky pen, miniature notebooks, paper garlands, washi tape… possibilities are sort of endless.
Order by October 17th at 11:59 AM ET to receive this Pippi Post.
*Only $1 Shipping!
*Small $4.00 handling fee for international shipping
5 folded cards, custom envelopes, and a few extras for a little pizazz.
Free digital version of every single Pippi Post card and postcard to print your favorites over and over again.
Option to purchase our featured add-ons for the month that could be an extra pen, notebook, art print, or something totally random and awesome.
A new Pippi Post kit is revealed on the 17th each month.
Add-ons must be purchased before 11:59pm EST on the 19th of each month.
Pippi Post ships on the 20th of each month or the following business day.
Subscribers will be charged for their first Pippi Post kit at time of purchase. After that, subscribers are charged on the 20th of each month.

What's in this month's kit

+

(6) 5.5" x 4.25" folded cards with envelopes

(1) Decal sticker

(6) 3" x 4" To & From gift tags

(6) 3" x 4" Kraft envelopes

(1) Pen
This month's Add-Ons
All subscribers can purchase add-ons with no additional shipping costs!
Here's how it works.
Simply can't wait for your kit? Take a peek below to see what's inside!
Why Subscribe?
A card that will always be there when you need it most!
Comes with a digital pack to print your favorites over and over again.
The most relatable and cutest illustrated kits ever that bring SO MUCH HAPPINESS.